Heritage Days 2003 a Success
A cold, but cooperative July 11, 12
PORTVILLE, NY -- The community's annual Heritage Days kicked off on Friday night with a street dance in the village, followed by a number of activities on Saturday, culminating with the Alumni Banquet at the Knights of Columbus in Olean.
The Pfeiffer Nature Center Expands: Click for More
Portville Girl Sings at NY Knicks' Game
1995: India Trip for the Worths
Click picture for full story
Old News: The '72 Flood
Hurricane Agnes drenches the region
PORTVILLE, NY -- The flood of June 1972 was the biggest news of the past fifty years in this small town. The after-effects of Hurricane Agnes brought days-on-end of drizzling rain, devastating residents and businesses of the Portville lowlands and ruining many homes along the Allegheny River.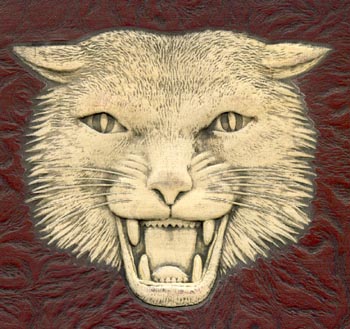 Why The Portville 'Panther'?
Origins of the mascot
by Jimmy Reynolds
PORTVILLE -- Very few people in town can tell you why Portville chose the panther as the official school mascot. It took a few days looking through old newspapers at the Portville Free Library to uncover the mystery.
(Click picture for full story)
-
Click here to view a 1938 Portville Directory Map
The Genesee Valley Canal
Connection to Erie Canal made obsolete by railroads
MILLGROVE -- When the Erie Canal was completed in 1825, the so-called "Clinton's Ditch" had a big impact on Western New York. No longer was Olean and the Allegheny River the "gateway to the West", and the loss of travelers was devastating to the Allegheny economy.
First Roads into Catt County
Early settlers followed Iroquois trails
OLEAN --The first roads built by white settlers into Cattaraugus County were simple, rugged paths blazed by the Holland Land Company, when it sent in its team of surveyors in 1798. Over the next two decades, a number of important paths and roads were constructed in and through the county, and many of them followed...
(Click map for full story)
God in Catt County

A short, religious history

Starting with the Native Americans who first inhabited Western New York and Cattaraugus County, religion has played an important role in shaping the communities that exist in this region.

When humans first migrated to this area about 5,000 years ago, the Great Falls of Niagara became the grandest holy mecca for the Paleo-Indians.

(Click church for complete story)

f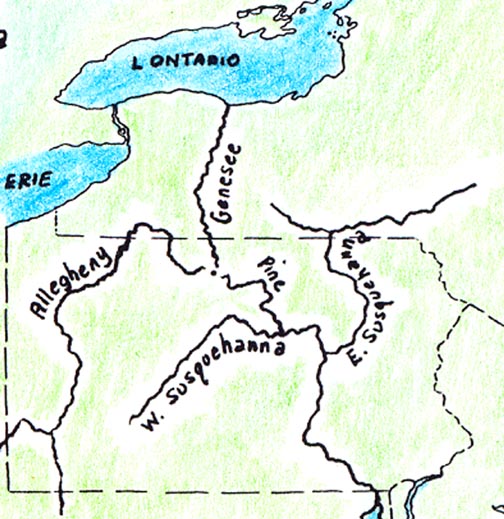 The Triple Divide
Area watershed feeds 3 great rivers
Click map for full article
f